3.7165 – Titan Grade 23 – Ti6Al4V ELI
Description
TA6V4 ELI alloy has a low density, very good biocompatibility and corrosion resistance and high mechanical properties. Its low Young's modulus makes it a good candidate for the manufacture of prostheses in particular. The mastery of its production and processing methods gives it a fine and homogeneous alpha beta structure.
Stainless has several qualified sources in stock as well as different diameters that will allow you to best meet your needs in terms of processing. This product can also be made to measure or cut into slugs by our service centres.
Each material is delivered with its producer's certificate of origin in order to guarantee total transparency and complete traceability.
Main applications
Due to its recognised biocompatibility in the medical field, the grade is mainly used in the manufacture of implants (prostheses, spine rods, etc.) obtained by forging and/or machining. The material is available in the annealed state for all formats.
Metallurgy
The elaboration processes associated with the transformation processes make it possible to obtain a homogeneous alpha/beta microstructure with an A1 to A5 type structure. See micrograph below: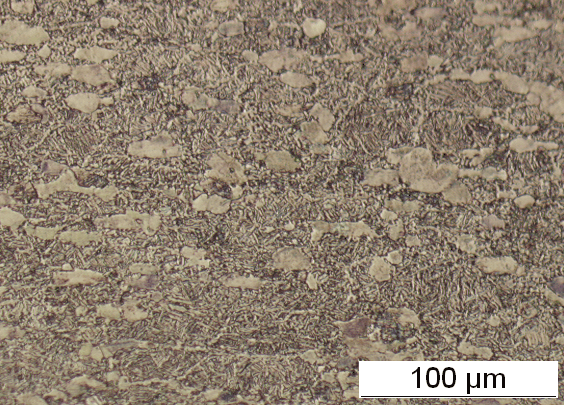 Machinability
Forgeability/Usability
The grade can be hot forged below beta transus (<950°C). Machining of this grade requires sufficient sufficient watering to limit heating.
Polishability
The high level of inclusionary cleanliness and the homogeneity of the microstructure of this grade allows optimum polishing.
Heat treatments
Annealing can be carried out from 700°C after forging. However, this treatment must remain under control in order to not to degrade the quality of the microstructure. After annealing, the oxidised surface should be removed mechanically or chemically.
The annealing is followed by a mechanical or chemical removal of the oxidised surface to remove the contamination layer (alpha case).
Corrosion resistance
The grade is highly resistant to general and pitting corrosion. Chlorinated solvents should be avoided. Titanium is also susceptible to hydrogen embrittlement, so it is important to limit any hydrogen input during heat treatment or chemical pickling processes.
Standard Sizes
3m round bars in the annealed condition – Surface ground or peeled
Flat bars made to measure or forged blocks in the annealed state (consult us)
Powders – Sheets – Wires